Algorithms Illuminated, Parts 1-4 (also available separately)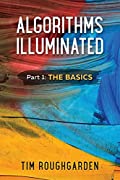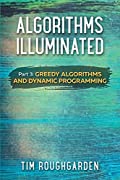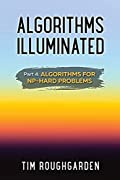 Algorithms Illuminated is a DIY book series by Tim Roughgarden, inspired by online courses that are currently running on the Coursera and EdX (Part 1/Part 2) platforms. There are four volumes (now also available together in a hardcover omnibus edition, see above):
TOCs and sample sections: Part 1; Part 2; Part 3; Part 4.
Ordering info for individual parts: Bookstores can order copies through Ingram. Individuals can order copies through Amazon (see above for links to the US site, also available through the .co.uk, .com.au, .de, .fr, .it, and .es markets with only local shipping charges). For readers in India, I recommend pothi.com.
Exam copies: Instructors, book reviewers, and foreign publishers/translators can request an exam copy by contacting the publisher at soundlikeyourselfpublishing@gmail.com.
Translations: Chinese (Posts & Telecom Press), Korean (Insight Publishing), Russian (Piter Publishing), Spanish (OJ Books).